St. Michael the Archangel Card with Guardian Angel Prayer (Donation for US Military)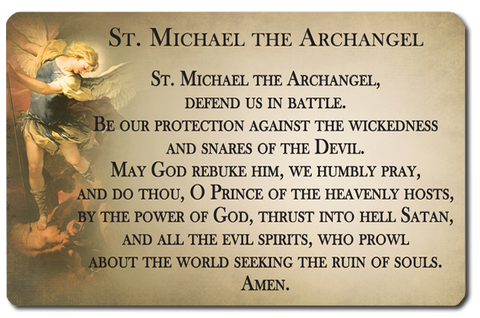 Will you help us send the St. Michael Prayer card to our Catholic men and women who are in the military protecting freedom around the world? 
From now until March 31st, 2022, when you purchase a Military St. Michael Card to be donated to military chaplains, we will match that donation. 
No matter how many you buy, we will match your purchase. If you buy 5, we'll donate 5. If you buy 100, we'll donate 100. There's no limit! Your donation along with ours will get shipped directly to Catholic military chaplains, and we'll cover the shipping costs. 
▶️▶️▶️***PLEASE NOTE: Military St. Michael Cards that are purchased through this sale, will NOT be sent to you. They are a gift from you to military chaplains that we are matching! They will be sent to Catholic chaplains, and then passed out to our military men and women and their families.*** ◀️◀️◀️
 (These are the exact same cards as our regular St. Michael cards, we only call them Military St. Michael cards to designate that they will be sent to the military).

Let's show our appreciation and support for these young men and women and beg the intercession of St Michael to protect all who defend our country.   


---
More from this collection