Angelus Prayer Card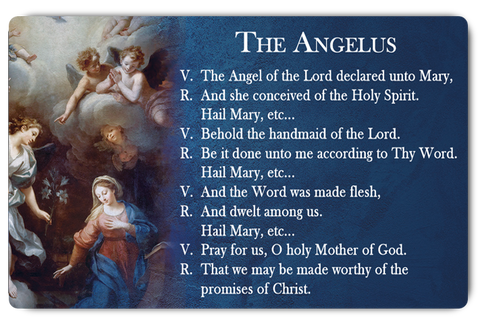 *** Orders are generally shipped within 3 business days, however, once we ship them, we no longer have control over the length of time it takes to get to you. Many shipping providers are experiencing longer than normal delays. Thank you for your patience :) ***
Traditionally prayed three times a day at 6:00am, 12:00pm and 6:00pm, this beautiful prayer recalls the Annunciation, when the Angel Gabriel asked Our Lady to be the Mother of God.
These Angelus prayer cards will make it easy to incorporate this beautiful prayer into your daily prayer life!
Did you know that during the Easter season (from Easter until Pentecost) the Regina Caeli is prayed instead of the Angelus? You can find the Regina Caeli card here and our special two-pack with both the Angelus and Regina Caeli here. 
Made of 30 mil plastic, they are the same size and feel as a regular credit card. They are proudly made in the USA!
FREE SHIPPING ON ORDERS OF $25 OR MORE (US Only) !!
---
More from this collection