All
Spiritual Communion Card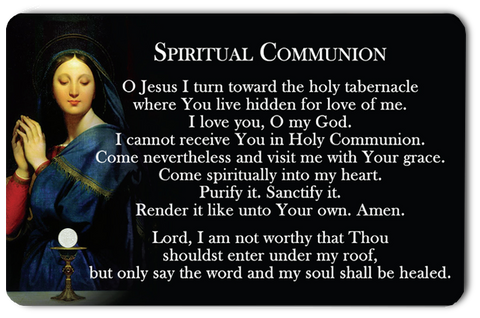 *** Orders are generally shipped within 3 business days, however, once we ship them, we no longer have control over the length of time it takes to get to you. Many shipping providers are experiencing longer than normal delays. Thank you for your patience :) *** 
In times of illness, when going to Mass and receiving the Holy Eucharist is not possible, faithful Catholics are urged to make an act of Spiritual Communion. In fact, you can make many Spiritual Communions throughout the day, whenever you want to be close to Jesus. The beautiful card makes it easy to do so. 
The back of the card features the very popular Anima Christi prayer. This prayer is often prayed right after receiving the Holy Eucharist and is the perfect prayer to pray after making your Spiritual Communion. As of July 1, 2020, the back has been redesigned to allow for a larger font size. 
Made in America using 30 mil plastic, these cards are the same size as a gift card, and easily fit into your wallet. Buy one for all your family and friends and help spread this beautiful devotion.
FREE SHIPPING ON ORDERS OF $25 OR MORE!! (U,S. orders only)
---
More from this collection